Perfect SEO for your Prestashop Store!
Remove ids and id_produtct_attribute from your
Store friendly urls...
Unlimited free updates and support h24, 7/7
|
Clean your Prestashop Friendly URLs:
Remove (*) IDs and ID Product Attribute in Products URLs;
Remove (*) IDs in Category URLs;
Remove (*) IDs in Supplier URLs;
Remove (*) IDs in Manufacturer URLs;
Remove (*) IDs in CMS URLs.

(*) With the ADVANCED Version of our module you can choose where to remove or mantain ids and much more.
Prestashop 1.5.X - 1.6.X - 1.7.X (up to 1.7.7.X) supported!
Allows setting the entire categories tree (category/sub-categories)!
Allows setting duplicate multilanguage Subcategories Slugs (for example: site/women/tops/tshirts/ and site/man/tops/tshirts/). The one and only module capable of doing this!
Supports Multilanguage and Multi-store settings!
One of the few SEO Clean Pretty Urls modules that works with the main Blog modules.
Unlimited Multisites/Multidomains License!
By clicking on the purchase buttons below accept Terms and Conditions
Last update: 31.03.2021
Boosts your shop's sales
Why is important to remove ids, id_product_attribute and attributes from the friendly urls prestashop?
The major SEO experts agree: clean urls maximize the seo and the indexing potential of your website (if you want, read more about this interesting article. Author: commonplaces.com).
For this reason, a friendly url with id (example: 1-1-hummingbird-printed-t-shirt.html) reduce the perception of the exact content of the page for the user and for the search engines like Google, reducing its SEO potential. The id_product_attribute (example: #/1-size-s/8-color-white) and also the only attributes (example: #/size-s), used by a default Prestashop in the products urls to differentiate the same product according to the single attributes in which it is available, expressed in the form #/attribute, are deleterious and inappropriate for SEO purposes. In fact, Google and all other major search engines do not index the text that follows the symbol #. For this reason several different URLs related to the same product will be interpreted as duplicates of the same page, penalizing your SEO. Moreover, links that are too complex, reducing the perception of the exact content in the research.
How to Remove IDs (and id_product_attribute) from URLs in PrestaShop? PS IT Clean Urls Module permanently (*) removes ids (and id_product_attribute) from all the friendly urls of Prestashop (products, categories, cms, manufacturers and suppliers) and the id_products_attribute of the frindly (pretty) urls (slugs) of the product pages of version 1.7, optimizing the SEO potential of your Prestashop store.

(*) With the ADVANCED Version of our module you can choose where to remove or mantain ids and much more.
NO LICENSE LIMIT: PS IT Solution sells the license to use its Modules (and the related services, for packages where applicable). PS IT Clean Urls modules, in the version for Prestashop 1.5 / 1.6 and Prestashop 1.7, can be REUSED UNLIMITED in own or third-party Prestashop stores. In fact, unlike most similar modules in the market, sold with a single license (buy one module per site), PS IT Solution offers each module for unlimited use. Therefore, buying just one time one of our services package, you will have the right to reuse countless times the modules received, respecting the rules of said License, with the bind of not modifying our Copyright and the link to our Support Service.
IDEAL FOR PRESTASHOP DEVELOPERS: for all this makes "PS IT CLEAN URLS" is the ideal and perfect module for Prestashop developers, who need to use a module to clean the urls and optimize the SEO on the sites of many customers, and for users who use various e-commerce Prestashop.
PS IT Clean Urls must be bought only once and can be used on all the sites you want! In addition have the right to request FREE UPDATES*** without limits.

FREE Update: All customers who bought our Modules (with the exception of the "License Fee" packages) or the "Installation and Configuration Packs" have the right to request for free the sending of the latest version of our module. Reed Terms and Conditions for all details.
To keep up-to-date with news and updates
To receive the update
, simply contact us at info@psitsolution.com and request the latest update of our PS IT Clean Urls modules,
taking care to indicate the Paypal Transaction ID related to the purchase of the service
.
100% GUARANTEED: The perfect functionality of our modules, for all versions of Prestashop (1.5.x, 1.6.x and 1.7.x), is GUARANTEED and evincible through ours

For any questions or clarification, please contact us at the following email address: info@psitsolution.com.
* PS IT Clean Modules Deposited Copyright
In order to avoid that, as it has unfortunately happened, third parties use our code for an inappropriate commercial use, claiming their title, we have rewritten and deposited the source code of our Module in its various versions (Prestashop 1.5 / 1.6 and Prestashop 1.7), in order to ensure greater protection for our and your rights.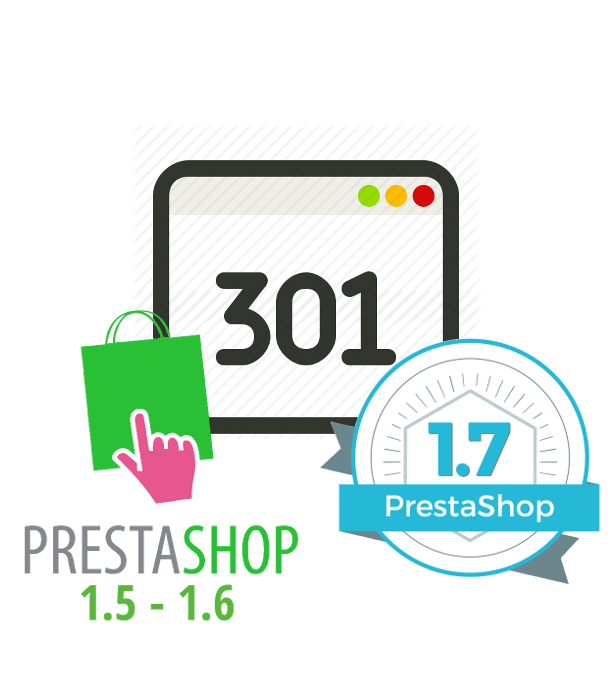 ** Redirect 301 of all old urls with ids (products, categories....) to the corresponding new urls without ids.
Example: mysite/01-product01.html to mysite/product01.html. For Redirect 301 of urls that do not comply with this structure, please, contact us.
You will receive an Illustrated Manual with all the necessary indications to set up autonomously our Redirect 301 Code in your .htaccess file.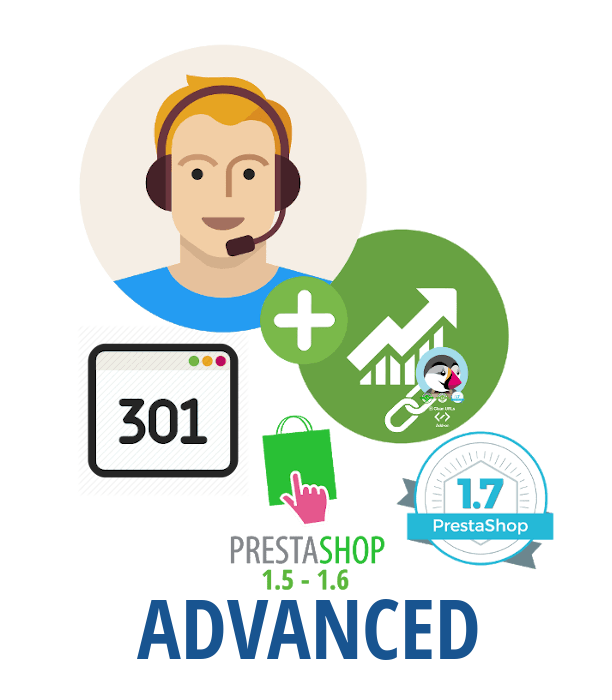 PS IT ADVANCED Clean Urls Module: Advanced version of our base module that offers the full range of options for customizing your prestashop's friendly urls. All the features of the PS IT Clean Urls module, described above, with, MORE, the possibility to choose to remove or maintain ids and other parameters from the frienfdly urls of your store, redirect 301 and 302 automatic and customizable (never again Error 404 pages!), urls cache compression and more.
Therefore, the Advanced version of the module, despite having been shown as the optimal solution for SEO is the total elimination of ids from any Prestashop friendly urls, allows those who, by choice or by necessity, want to clean only some of the routes urls of Prestashop (Example: delete id_product_attribute from urls of products but maintain ids from urls of products and categories or, again, delete ids and id_product_atrtribute from urls of products but mantains ids in urls of categories and cms, etc etc.)
All this makes this module also the ideal support tool in the migration from Prestashop 1.5 and 1.6 to Prestashop 1.7 so as not to lose the ranking already acquired in Google.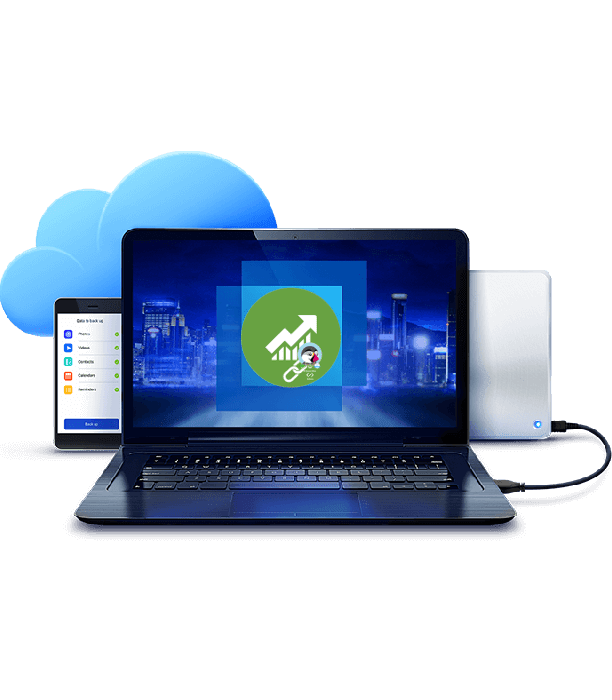 Installation and Configuration Service from € 45!
By purchasing one of the two packages "Installation and Configuration Service", our technicians will provide the installation and configuration of our module directly on your Prestashop site.
Our Mission: Improve the potential and promote the use of Prestashop (one of the best opensource e-commerce) in every region of the world, including those with lower purchasing power than Western Countries, providing our experience and our modules at an ethical price and with a single multi-sites / multi-domains license (buy once and use it on all the sites you want).
Prestashop Check Service
Quick Support for all kinds of problems on your Website.
Available 24 hours a day, 7 days a week!
Do you have a problem with your Prestashop?
Do you want speed up your Prestashop and improve your SEO potential?
Whatever problem you have, buy our Check Service and our technicians will carry out a check of your Prestashop website and give you the solution to your problem or, anyway, we will send you a free estimate for the resolution.
After buyng the service, use our Support Form to send all requested data and details of your problem.
Our technicians take care of your problem within a maximum of 24 hours.
Service available 24 hours a day, 7 days a week.
Buy Now
Can't wait 24hh?
Ask for a "Priority Check" now!
Buy the service and send our Support Form with all requested data and details of your problem, Specifying in the appropriate field that it is a "Priority Check Service".
Our technicians will analyze your problem within a maximum of 4 hours (If you have to wait more than 4 hours for a first answer, we will refund the surcharge!)
Service available 24 hours a day, 7 days a week.
Buy Now