PS IT
Clean Urls

Module + Redirect 301

Multisite/Multidomain License! (PS IT Solution Software License): Use the same Modules on your Prestashop websites! For all details, please read Terms and Conditions.

Deposited Copyright.
How to Remove IDs and IDs Product Attribute from friendly URLs in PrestaShop?
PS IT Clean Urls is a PrestaShop Clean Friendly (Pretty) URL Module that removes auto generated IDs from the URLs of Product, Categories, Suppliers, Manufacturers and CMS pages. Clean the Prestahop Slugs are search friendly and an essential requirement for a SEO optimization. Our module provides a report on duplicate and conflicting URLs for products, so that you can troubleshoot and correct easily.
Clean your Prestashop Friendly (Pretty) URLs:
Remove IDs Products and IDs Product Attribute (1) in Products URLs;
Remove IDs in Supplier URLs;
Remove IDs in Manufacturer URLs;
Remove IDs in CMS URLs.
(1) example: #/id-attribute, used to display different attributes of the same product, on the same page. Google does not take into account when indexing what is on the right of the (#) and, above all, makes the URL difficult to understand for the user. Our module remove this type of content in the product urls in all versions 1.7.X and 8.X of Prestashop.
Remove IDs in Category URLs;

Allows setting the entire categories tree (category/sub-categories) and duplicate multilanguage Subcategories Slugs (eg: site/women/tops/tshirts/ and site/man/tops/tshirts/)
Redirect 301 of all old products url to the new urls without ids
ex. old url with ID: mysite/en/tshirts/1-faded-short-sleeves-tshirt.html -> New url without ID (mysite/en/women/tops/tshirts/faded-short-sleeves-tshirt)
Main Blog modules Compatible!
Support Service h24 7/7!
Boosts your shop's sales!
- Make URLs Search Engine Friendly To Rank Higher
- Adds 301 Redirection from Old URLs to New URLs to Avoid 404 errors
- Improves Search Engine Rankings, your Clients and your Sales!.
Prestashop SEO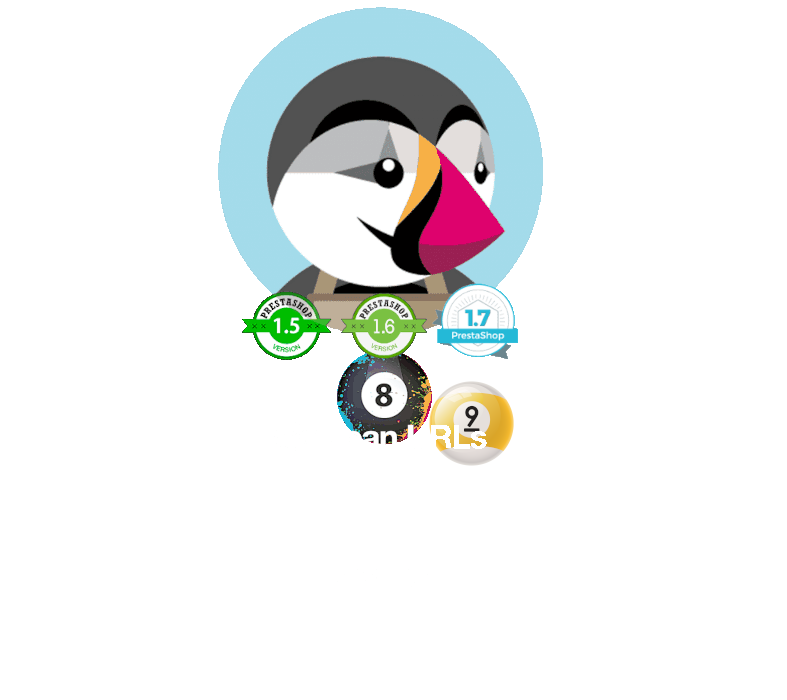 Last update: 04.12.2022
€24,99
PS 8 - 1.7 - 1.6 - 1.5
Supported!
Multilanguage and Multi-store setting Supported!
Use our Modules on your Prestashop websites.
The only Prestashop Module with Multisite/Multidomain License!