Secure payment
Secure Payments
We guarantee secure payments by:
Credit/Debit Card through transactions on Stripe Protected Servers.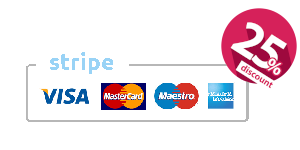 All transactions and data will pass directly on the Stripe secure servers, without passing on our server, and you will immediately take advantage of discounts or extra limited promotions on this store thanks to the special rates that Stripe reserves us as a certified user.
For more information, visit the Stripe website.
Do you want to pay with PayPal? For all modules and services where applicable, you will find a "Buy Now with PayPal" Button but only by purchasing and paying with your card, on Stripe's secure and protected servers, thanks to our agreements, you will you be able to take advantage of the prices and discounts provided!
Payment through Paypal does not include the application of the discounts and offers provided on this site and will not require any registration. You will receive the module purchased with PayPal directly and immediately, as an attachment, to the email address linked to your PayPal account or to the address indicated at the time of payment by credit card on the PayPal server.
Bank Transfer
We accept bank transfers. By choosing this payment method it will be necessary to wait for the confirmation of the successful transfer and the crediting to the account indicated at the time of order confirmation. The provision of services and the possibility of downloading the purchased modules, therefore, will be subject to what has been said and will inevitably have longer waiting times.
INSTANT or ORDINARY BANK TRANSFER: with an Instant Bank Transfer it will be possible to reduce the waiting times for the availability of the module(s) and services purchased to a maximum of 24h. With an Ordinary Bank Transfer it may be necessary to wait even beyond 48/72h.

To facilitate checks and reduce waiting times, we recommend that you send a copy of the bank transfer slip to info@psitsolution.com.
You will receive confirmation of the outcome of your order directly to the email address used to register/place your order.
ATTENTION: after 3 working days (72hh) from placing the order, in the event of failure to send the bank transfer slip and, in any case, at our unappealable discretion, if the bank transfer is not received, the order will be cancelled. You will still be able to place a new order paying the price in force at the time of your new order.
Criptocurrency (Bitcoins) - (temporarily suspended)
We accept cryptocurrency (Bitcoins), the safest and most privacy-friendly online payment method. Orders paid with cryptocurrency will be confirmed once we have confirmation of receipt of the payment in our wallet. It will therefore be necessary to wait for the time of verification technicians. You will receive confirmation of the outcome of your order directly to the email address used to register/place your order.