How and why remove ids and id_product_attribute from the Prestashop's friendly urls?

Why (and How) remove ids (and id_product_attribute) from the Prestashop's friendly urls?
Optimized URLs are important for search engine optimization and user experience.
Search engines factor many variables into their decision making process and URLs are high on the list. As with page titles, URLs help describe a web page to search engines and potential visitors, meaning they should be accurate, enticing, and well-structured. While many factors should be considered, here are 9 best practices for creating SEO-friendly URLs.
1. Describe your Content in URLs
A user should be able to make an accurate guess about the content of a web page simply by reading the URL. To accomplish this, a URL should include an accurate phrase or term that pertains to the page content.
2. Include Keywords in URLs
It is a best practice to optimize every web page around one keyword, and this keyword should be included in the URL. It is also important to put the most important keywords in the beginning of the URL, as search engine spiders do not give as much significance to words toward the end of a URL. Remember though, do not overuse keywords. Search engines recognize keyword stuffing and will penalize your website for those actions.
3. Use Hyphens to Separate Words
Using hyphens to separate words in URL phrases is important to both user readability and search engine optimization. Google recommends using hyphens (-) instead of underscores (_) in URLs because hyphens are treated as spaces between words, while words connected by underscores are viewed as one word.
URL Example
Optimized: https://example.com/blog/url-optimization-tips
Not optimized: https://example.com/blog/url_optimization_tips
4. Use Lowercase Letters in URLs
Do not use capital letters in your URLs. Search engines can decipher from uppercase and lowercase letters in URLs, which can lead to duplicate URLs and loss of page rank.
URL Example
Optimized: https://example.com/blog/url-optimization-tips
Not optimized: https://example.com/blog/URL-Optimization-Tips
5. Keep URLs Short
The URL of a web page should be as descriptive and brief as possible. A short URL is quicker to type and read. Also, the fewer the words the more value each word receives from a search engine spider. Too many similar words in a URL can be viewed as keyword stuffing and could result in a drop in search rankings.
6. Use Static URLs
Whenever possible it is better to use static, non-changeable URLs. These are URLs which remain constant with each page load. Try to avoid unnecessary parameters like "?," "&," and "=", which are common features of dynamic URLs. Static URLs are easier for both users and search engines to read. This doesn't mean you can't add extra parameters to URLs you will be posting to social media to help track marketing data, but avoid hard-coding dynamic URLs directly into your site.
7. Be Careful with Subdomains
It is important to consider that search engines have the potential to treat a subdomain as a separate entity from the primary domain. This can affect multiple aspects of SEO, including link building and trust value. Unless you have a specific reason to use a subdomain, it is best to use subfolders instead.
URL Example
Optimized: https://www.example.com/topic
Not optimized: https://topic.example.com
8. Limit Folders in URL Structure
A URL should contain no unnecessary folders. Just use the amount of folders and characters that are needed for your URL structure. The flatter your site structure is the better.
Utilizing these best practices for SEO-friendly URLs should help your site rank higher in search results and entice users to visit your pages. A key component to URLs, and all aspects of SEO, is usability. Always keep the user in mind. One more thing to remember, Google likes to change the rules. Always keep your eye out for changes in the world of SEO.
9. Remove ids and id_product_attribute (Prestashop)
Considering points 1 to 8, it inevitably follows that in "Prestashop" it is FUNDAMENTAL TO ELIMINATE the "IDs" (example: mysite.com/1-1-hummingbird-printed-t-shirt.html) ) and the "id_product_attribute" (example : mysite.com/men/1-1-hummingbird-printed-t-shirt.html#/1-size-s/8-color-white) from the structure of urls. It is no coincidence that in the Fork of PS 1.6 "Thirty Bees" I see it as provided by default. 
We, for years, are giving you the solution through our modules "PS IT Clean Urls" and "PS IT Advanced Clean Urls"
Optimize the SEO of your Prestashop with PS IT Clean urls Module
The most used module for cleaning Prestashop friendly Urls!

Or choose the Advanced version, in case of more articulated needs

It might interest you... Prestashop SEO Total Pack
The 4 essential modules for the SEO of your Prestashop in a single "Extra Discount" package!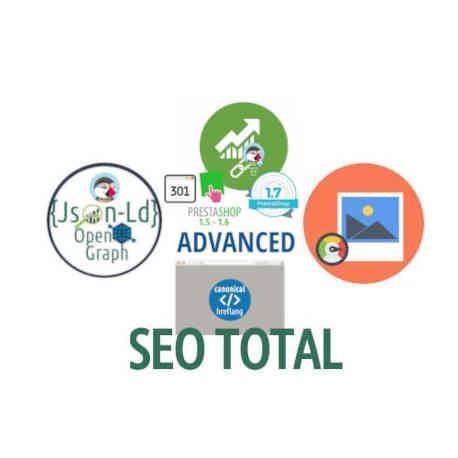 Optimize your Prestashop SEO with PS IT SEO Modules!